(Click any image to enlarge it)
Its been a long time since I have written any posts, so I feel compelled to write something.  This is partially due to a rather uneventful last couple months, but mostly due to Carol, as she tends to beat me to the story writing punch for anything that is worthy.
The weather here has been so hot this summer.  Maybe not technically as hot as last summer and for sure we had a lot more rain this year, but nevertheless, anything above 95 or 100 degrees is just plain hot, especially at night!  It is currently 8:00 pm, the sun has been down for almost 2 hours and the thermometer on our wall is showing almost 90!
(probably 120 in our tiny kitchen with the oven and two stove burners going while carol cooks dinner!)   Im really looking forward to some cooling off soon, in the next month or so, but unfortunately, there is no real Fall season.  There are not really trees with leaves here, so we don't get the beautiful colors, and no one burns anything (probably for fear of setting the entire, incredibly dry country on fire!) so there is no nostalgic leaf burning smells in the air.  The "Fall" is really just a morphing of still-quite-hot-days with starting-to-be-cold-nights.  Followed almost immediately with colder and colder nights.
This post's title is the result of a recent large meeting we had with other PCVs.  The meeting is called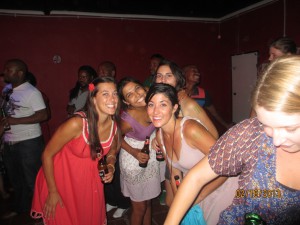 Regionals and as the name implies, it's a meeting of all current PCVs in the Region.  There are 4 regions in Botswana and ours is the biggest with around 40 PCVs.  It occurs a couple of times a year and the purpose is to introduce old "vets" like us to even older vets about to close their service, and to young newbies.  We all exchange stories and experiences and voice our complaints and solutions and other fun stuff.  It's meant to be mostly informal with just minimal "class room" time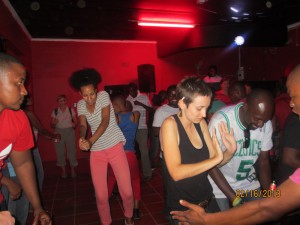 for issues on Safety and Security and some other subjects.  The PC puts us all up in a nice lodge and reimburses us for our travel expenses and provides nice meals.  It really has been a fun time so far.
Most of the people in the PC are fairly young, and as such, a nice hotel stay usually leads to some fun late nights at a local night club followed by some hotel room parties which in turn lead to some fun group games.  One of the popular ones is called 13.  We go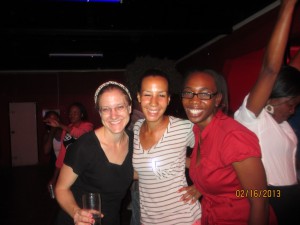 around in a circle and call out sequential numbers to the number 13.  Then the numbers start over.  Whoever gets 13 makes a rule that is attached to any "open" number and has to be followed by the person landing on that number.  Rules such as "anyone who gets number 4 has to do jumping jacks on the bed until they are replaced by the next person to get number 4" and "anyone who gets 11 has to exchange all their clothes with the person 3 to their left" are common.  I was the subject of just such a rule and to my shame, caught on camera.  I also had to sing a song, do jumping jacks on the bed and several other things I can't really repeat here.  All in all, it is a fun time and the night is always full of laughter.
As the months go by we are loving our life here in Botswana less and less, but our little puppies more and more.  We have made good friends with an older American couple (Ben and Rita) who have lived here for 8 years or so and they have a very nice house (probably the nicest house in all of Molepolole) with a nice swimming pool (an extreme rarity in Botswana!).  They live roughly two taxi rides away on the other side of town and they have 4 large, very friendly guard dogs.  We took our dogs to visit them a while back and all the dogs just fell in love with each other.  So now, when we get into a taxi with our dogs, they must know they are going to Ben and Rita's house because they are so excited they just can't contain themselves.  It's quite cute and fun.  Rati has taken to the water quite well and even jumped in on her own a week or so ago.  Phi Phi is not a water dog at all and is quite disturbed with all her swimming lessons that we put her through.  They both, however, do enjoy sunbathing.
Speaking for fun games, I remember back at home, my old cat, Mr. B and I used to play a fun game called The Sock On The Head Game.  He was quite good at it and actually seemed to enjoy the challenge.   It seems Rati and Phi Phi are enjoying the game now too.  To see a short Video use the Blue Download Button below. 

[ddownload id="2274″ text="The Sock on the Head Game" style="button" color="blue"]  Download Size: [ddownload_size id="2274″]  Download Count:  [ddownload_count id="2274″]