Before Carol posts her elaborate post tomorrow of our recent trip to Durban, South Africa, I have been meaning to post several small interesting pictures we have collected since the last one.
These are pretty much all unrelated tid bits, but I felt the need to write "something" since I haven't written for so long.
This picture was taken of the toilet in our old house.  Not entirely a rare occurrence.
Every year there is a huge event sponsored by some of the worlds largest companies.  Its is called the Toyota Dessert Race and it's a two-day, 1000 Kilometer race that starts and ends in a tiny (and I mean tiny!) village just 30 minutes from our house.  I spent a night camping there with some work associates and got a close up view of some of the cars.  It was an exciting event and the amount of dust everyone was eating would blow your mind.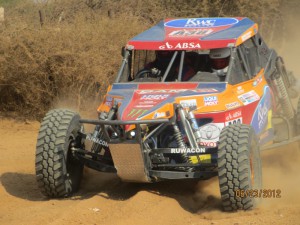 This is thorn tree (like a hawthorn) and I can't imagine how these people got to the top of this tree!  They were watching the cars zoom by below.
As you all know,  I was denied my request for a pet goat.  That being said,  I have found a satisfactory sense of companionship in the many short-lived (literally) chickens that enjoy feeding from my hand in exchange for leaving their droppings on my front porch.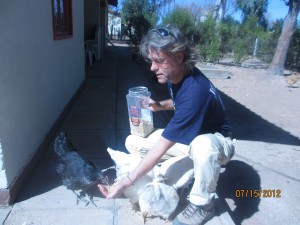 John-and-his-chickens
You probably didn't hear, but George Bush (Junior) came to Botswana to promote a project he and his wife Laura are doing for Cervical Cancer.  They chose a small village near our home and a select group of Peace Corps Volunteers were asked to attend the small ceremony and meet and greet with the ex-pres. Since I was a veteran I was invited, along with several others who were from the state of Texas; all in hopes of making Mr. Bush feel more…well… at home. It was an interesting meeting and I got to shake his hand a few times and chat for a few moments about what I am doing in the PC and about my fun in Air Force Basic Training a few years back. I'm the hippie in the front row, on the left.
In case you have never been to Molepolole, Botswana, Africa, these are some typical landscape scenes from around our home. Double click them to enlarge.
This is the Fabulous Gaborone (the one and only "city" in Botswana) Skyline.  Not much to look at, but gives you an idea what we see on those infrequent trips to "the city".
And last and probably least…. some resourceful use of old tires.
Thanks for your indulgence!